Stir Your Imagination.
As part of the team at The Fresh Market, you'll join us in delighting our guests, connecting curious taste buds with delectable indulgences and making shopping at our stores a joy. From sharing your passion and love of food to bringing your bright smile and winning personality to work, what you add to our stores will help everyone succeed. All while enjoying fairness, respect and dignity on the job and a warm, friendly, diverse and inclusive work environment.
Discover what it means to inspire our guests to make everyday eating extraordinary.
Career Areas
Join a team that creates warm, welcoming, memorable guest experiences with exceptional, personal service. If you exude positive energy, commitment and a "can-do" attitude, there's a place for you at The Fresh Market. Departments include Deli, Meat-Seafood, Bakery, Center Store areas, Produce-Floral, Front-End, and more!
View All Jobs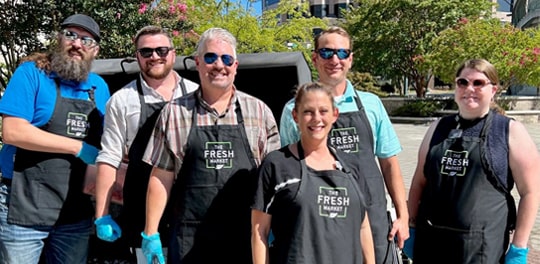 Extraordinary careers are in stock at The Fresh Market. Our Store Support Center in Greensboro, NC, is home to departments including Accounting/Finance, Human Resources, Marketing, and more! Explore opportunities to join our team and bring The Fresh Market experience to life.
View All Jobs
Our Stories
We're made up of amazing people from every community that we serve. Meet a few of them:
The Fresh Market truly gives everyone a chance: I started out with no experience as well as physical limitations from cerebral palsy, and the manager put me in departments that fit my needs perfectly. My coworkers are always happy to help as well! I'm very grateful for their support.

– Emily McDeed
Store Team Member
The Fresh Market provides me with the environment that challenges me to take risks in my career and the opportunity to grow as a leader through new experiences while still encouraging my creativity.

– Tammy Bowers
Store Manager
Management is amazing, and you are surrounded by genuine, nice co-workers who truly work as a team. The Fresh Market offers a safe work environment, great discounts on food, a flexible schedule and fair pay.

– Personal Shopper
Our Focus on Community
The Fresh Market believes in giving back to our communities to help make them a better place for all to live. We do this with in-kind giving and through programs with long-term focus on hunger-related causes including Feeding America, Meals On A Mission and Take A Slice Out Of Hunger. We believe it's our responsibility to invest in our communities the same way they invest in us.