Ask Our Team!
Read what a few of our team members have to say about working at The Fresh Market, how to land a job here, and what it takes to advance your career.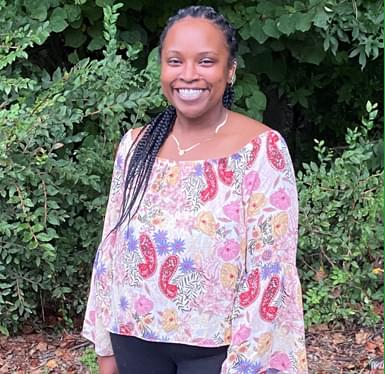 JaMilia Stewart
Corporate Office (Store Support)
Greensboro, NC
I started as a cashier in the Ridgeland, Mississippi store in March 2020. I immediately realized that it was better than any job I've ever had in retail (I used to work at Sam's Club). So, I learned from other Team Members how to be the best Team Member I could. My manager recognized my hard work and within 2 months I was promoted to a Scan Coordinator, responsible for ensuring we were stocked with everything our guests wanted. Because I love interacting with guests, 6 months later I was promoted to Guest Services where I helped guests with all of their needs.
I was a Business major in college, and started working on my Masters Degree in International Business Management right as the pandemic began. My dad is in the Air Force, stationed in Greensboro so I thought it would be the perfect opportunity for me and my cat to move closer to him and for me (not my cat) to apply for a role at the Corporate office there. I applied for the Merchandise Data Integrity Specialist role and was offered the role! My manager was totally supportive and excited about the new opportunity for me!
Definitely the ease of getting additional training and learning new things and having new experiences – anything you want to learn you just have to ask - while at other companies you have to figure it out on your own.
I'd say someone who is willing and able to listen, learn, keep an open mind, and SMILE!
Being a people person, I love to interact with people…I really miss talking to guests and making them happy. Learning new corporate systems have also been a challenge, but I love a good challenge and know that all of these new experiences will be beneficial to my career.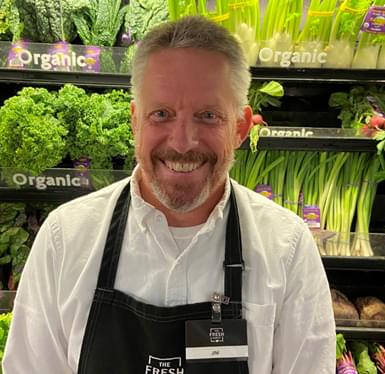 Jim Healy
Store Manager
Suwanee, GA
I was in the grocery and retail business for almost 40 years and was looking for a new opportunity with a company smaller than what I was used to. I started at TFM 11 years ago, and even before I started, it felt like a family-owned business. TFM is much more personal than the large stores I had worked at in the past. I manage nearly 60 people, and they all feel like family.
I look for someone who is friendly, has an outgoing personality, and exudes an energy that makes others feel comfortable and happy to be talking to you. You really have to like people – if you don't, this is definitely not the place for you.
Our guests appreciate and expect high-quality food and produce, and they are willing to spend more money on keeping their families satisfied and healthy. They seem happier in general than guests at other retailers and big box stores. There are less complaints also, but even when there are issues, the guests at TFM are much nicer about it than at other places I've worked. Our guests – the way they are and the way they treat us – definitely gives us all less stress than a typical retail job.
I love that I can stand at the back of my store and see the entire store – every department, every display, every Team Member. It's a great feeling to me to know that the place I work has so many great products, in such a clean, well-maintained, comfortable environment.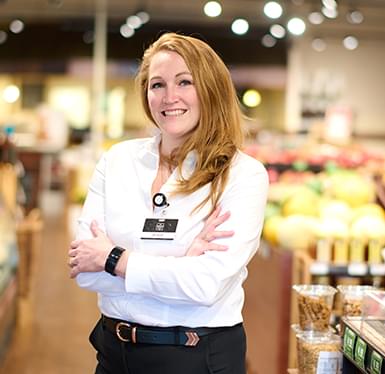 Jesse Randall
Store Manager
Cary, NC
Yes, we offer a 12-week PAID Internship Program that focuses on store and corporate education & training, including trailing a Store Manager a few days a week. You'll learn all aspects of running the store and get hands on experience in our Bakery, our Floral Department, the Deli, our Meat & Seafood department – really, just every part of the store. It's a great program for a student who really wants to learn about not just grocery store management and operations, but retail as a whole.
They've got to be hard-working, know what they want to do, and have attention to detail. A positive attitude, knowing how to prioritize tasks, and working well with a team are important things as well. Of course, they have to like interacting with guests too!
I take pride in moving people up and giving them acknowledgement for a job well-done. When someone works hard for a promotion or a raise and they let me know that they have a specific goal in mind, I'm always more likely to help them achieve that goal.
At TFM, we want employees to be themselves. Yes, you can have a nose ring. Yes, you can have tattoos. If you want to wear a PRIDE flag on your vest for the entire month of June – or every single day – that's OK too. Our Team Members also love to create new displays for their departments - I love walking into my store and seeing the care and creativity our team members put into making the store look fresh and beautiful!
We have employee resource groups like our Diversity Group, our LGBTQ group, and our Women's Council that are open for anyone to join.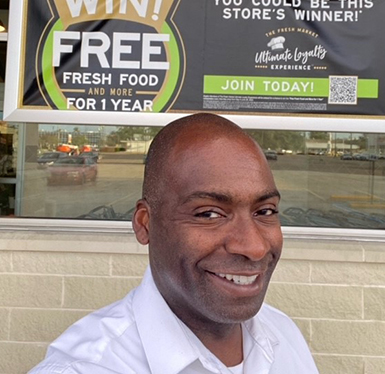 Hollie Abernathy
Store Manager
Meterie, LA
Hands on! I am the first person the candidate meets in the interview process & on their first day we sit down and chat. After their first 7 days we touch base and talk about how their first week went!
We are clear and build a plan with the Team Member to show how they can develop and grow in the business. We work with them during their training and always follow up! If you invest time in our Team Members, they will grow!
I give them examples of successful communication and failing communication. It's important to be honest with them and create a safe place for them to approach and build a relationship. We all have opportunity to grow and be better, Store Managers included!
Right after IDA with The Hurricane, the team coming together to put the store together. Started with 5 people helping & putting it all back together and in the next 9 days as most of the team came back, I got to see how the team came together and rebuild our store.
Our Stories
We're made up of amazing people from every community that we serve. Meet a few of them:
When I think of the 20 years I have invested in my career with The Fresh Market, I think family. TFM has given me numerous opportunities to grown and learn and work for a company that believed in me and put time into my development. It's not just a job but an experience and doing it with my TFM Family makes it even more rewarding.

– Wanda Washington

Human Resources
I enjoy working in an environment that feels unlike any other grocery store. The old-world charm of our store. The classical music. It all makes for an inviting and enjoyable experience for our team members and guests alike.

– Thomas Miller

Assistant Store Manager
As an Assistant Guest Service Manager, it is my job to ensure we are the last faces our guests see. I love working at The Fresh Market because my smile is contagious, and it will affect every guest I encounter with.

– Breonna Brooks

Assistant Guest Service Manager